Description
Highlight
DESSINI 1200W Electric Crepe Maker
Model: DS-301
Make cooking fun and easy with the multi-purpose electric crepe pan
The non-stick coating is ideal for grilling, easy to clean.
Able to flip without any of it sticking to the surface.
Features with corrugated heating ring to heat evenly.
Allows you to easily grill your food, making it very easy and accessible for you
Makes the appearance of the food better and more inviting to eat.
Prevents food from overheating so your food won't get burnt.
Ease of use combined with energy saving technology
Heat insulated body design to ensure safe cooking and prevent user scalding during cooking time
One button simple control, easy to use.
Compact size, take up little space in your kitchen.
Great for cooking crepe, pancake, spring roll, bacon, eggs, etc.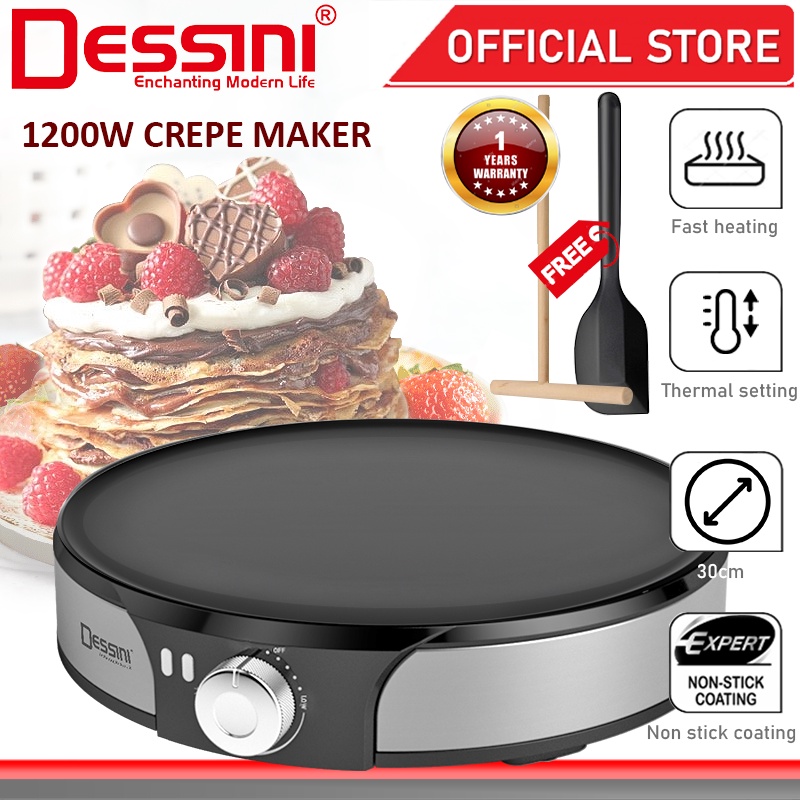 Product Description:
- DESSINI 1200W Electric Crepe Maker
- Model: DS-301
- Make cooking fun and easy with the multi-purpose electric crepe pan
- The non-stick coating is ideal for grilling, easy to clean.
- Able to flip without any of it sticking to the surface.
- Features with corrugated heating ring to heat evenly.
- Allows you to easily grill your food, making it very easy and accessible for you
- Makes the appearance of the food better and more inviting to eat.
- Prevents food from overheating so your food won't get burnt.
- Ease of use combined with energy saving technology
- Heat insulated body design to ensure safe cooking and prevent user scalding during cooking time
- One button simple control, easy to use.
- Compact size, take up little space in your kitchen.
- Great for cookingcrepe,pancake, spring roll, bacon, eggs, etc.

Packaging Included:
- 1 x Electric Crepe Maker
- 1 x Spreader
- 1 x Scraper